If you run an HVAC company you probably find the work pretty interesting. You probably also know that the typical homeowner isn't much interested in HVAC until they actually need service.
For businesses in areas that people get excited about – like fashion food and media – it's easy to use social media to establish visibility and communicate with customers. But how about HVAC companies electricians plumbers roofers and other contractor service businesses that don't have that kind of "sex appeal"? What can they do to cultivate followers on social media and make it work for them as a marketing tool?
Here are four good approaches which are best pursued simultaneously.
Give People a Reason to Follow You
An engaging social media presence is all about providing a quality experience. Offer your followers fan-only incentives. Let them know that if they follow you they can expect to see specials and coupons in their newsfeed. This is a great way to make your followers feel they are part of an exclusive group.
Share Behind-The-Scenes Photos
People like people more than they like businesses so let them see who you are. Sharing photos helps people to get to know and trust you. You can share photos of your staff on-the-job photos office parties pets or babies at the office – even photos of your staff when they're off the clock. Let people see that your employees are friendly family folks dog lovers charity participants or sports enthusiasts. Your staff's own family and friends will eagerly share these photos to their own pages where their friends will see them. Photos of happy customers are also good to share – with their permission of course.
When you come across something interesting on a job snap a picture and share it. It could be a teachable moment of what a homeowner should not do or your worker's solution to a challenging situation. This is a great way to market your services without seeming pushy or salesy.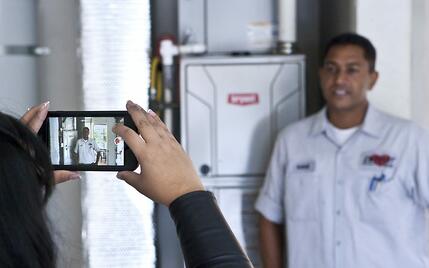 Share Valuable Information
Sharing articles and how-to tips and tricks from blogs and websites is a great way to educate your customers (like the one below from houselogic.com). Businesses sometimes worry that if they share DIY tips their customers will start doing things themselves. That may be true for simple tasks like changing a furnace filter but the average homeowner will rarely go beyond that. The upside is that you turn yourself into a helpful resource and give customers another reason to follow you. And when they do need service your company will be top of mind.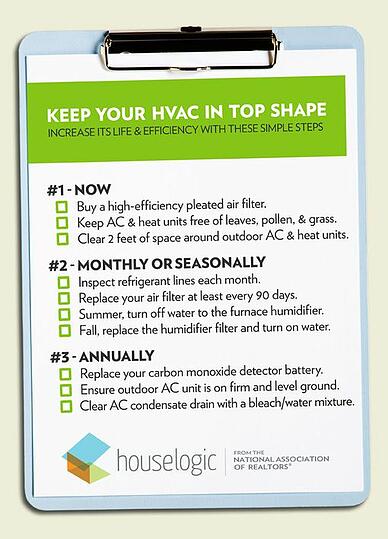 Provide Exceptional Customer Service
Remember that you're on social media because that's where your customers are. Responding to customers' comments and messages is a huge part of what makes a business successful on social media. If a follower asks a question on one of your posts or sends you a private message respond promptly. Show potential customers that you are listening and that you care about their concerns.
It's essential to be helpful interesting and authentic. Provide followers with value and connect with them and they'll reward you with their business.
If you would like help marketing your HVAC business or other contractor service company contact excelerate Digital today.